---
31 January 2023
Quarterly Activities/Appendix 4C Cash Flow Report
03 January 2023
Appointment of CEO
30 November 2022
Half Yearly Report and Accounts
See All Announcements >
31 May 2022
8VI Metaverse Summit explores uncharted virtual spaces and non-fungible investment opportunities of the future
24 January 2022
8VI Holdings Limited Unpacks "Game Changer" Trends in Investments for the Year Ahead in VI Summit 2022
12 August 2021
VI Holds Inaugural VI Summit Chinese
See All News >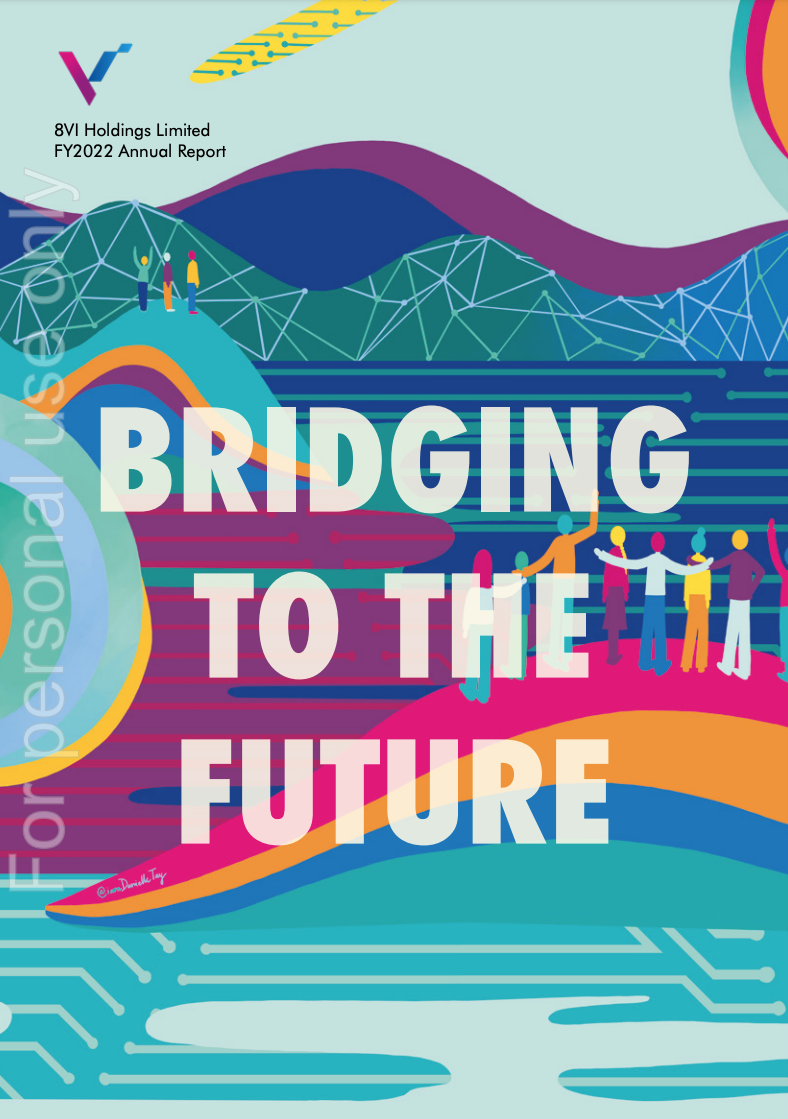 FY2022
Bridging to the Future
See All Reports >
Corporate Governance Plan
Corporate Governance Statement 2022
Whistle Blowing Policy
See All Documents >
Our future plans are anchored on continual technology development and digitalisation on all fronts.
See Our Strategy
We work to transition and retain every "one-off" course graduate persona into a thriving member of our VI Community, so that they can benefit from the continuous support and repeat learning opportunities through tiered subscription options.
We plan and create content which is deployed across various platforms to acquire new customers, build engagement and showcase continual, new additions to our programmes. We are also focused on building retention through a customer-centric culture and mindset to bring entire lifetime value. As we develop our technology, we continuously build on existing and new features that enhance user experience.
We are strengthening our position in highly successful and well-adapted English, Chinese and Malay language-speaking markets – Singapore, Kuala Lumpur, Shanghai and Taipei – which we believe hold healthy growth potential.
We are constantly refining our programmes to cater to the rise of new consumption habits, as well as the diverse and growing needs of our VI Community.
Our business is moving towards greater digitalisation on all fronts, including the progressive automation of our operational processes and application of data analytics on the backend to optimise our business decisions.
Hide
---
// Directors

Mr Clive Tan Che Koon (Non-Executive Chairman)
Mr Ken Chee Kuan Tat (Executive Director and CEO)
Ms Pauline Teo Puay Lin (Executive Director)
Mr Ng Tiong Gee (Independent Director)
Mr Philip Forrest (Independent Director)

// Company Secretary (Singapore)

// Company Secretary (Australia) and Compliance Manager (Australia)

SmallCap Corporate Pty Ltd
Suite 6, 295 Rokeby Road
Subiaco WA 6008

// Registered Office (Singapore)

1557 Keppel Road
#01-01
Singapore 089066

// Registered Office (Australia)

SmallCap Corporate Pty Ltd
Suite 1, Rokeby Road
Subiaco WA 6008

// Principal Place of Business

1557 Keppel Road
#01-01
Singapore 089066

// Share Registrar

Link Market Services Limited
Level 4, Central Park
152-158 St Georges Terrace
Perth WA 6000

// Auditor

KLP LLP
Public Accountants and Chartered Accountants
13A Mackenzie Road
Singapore 228676
Partner-in-charge: Lim Yeong Seng

// Stock Exchange Listing

8VI Holdings Ltd's shares are listed on the Australian Securities Exchange (ASX code: 8VI)
---
---